Can't-Wait Wednesday is a weekly meme hosted at Wishful Endings, to spotlight and discuss the books we're excited about that we have yet to read. It's based on Waiting on Wednesday, hosted by the fabulous Jill at Breaking the Spine.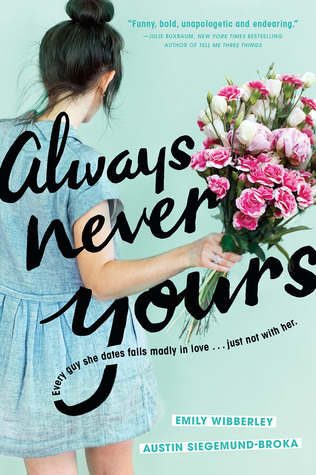 Summary from Goodreads:
Shouldn't a girl get to star in her own love story?
Seventeen-year-old Megan Harper is about due for her next sweeping romance. It's inevitable—each of her relationships starts with the perfect guy and ends with him falling in love . . . with someone else. But instead of feeling sorry for herself, Megan focuses on pursuing her next fling, directing theater, and fulfilling her dream college's acting requirement in the smallest role possible.
So when she's cast as Juliet (yes, that Juliet) in her high school's production, it's a complete nightmare. Megan's not an actress, and she's used to being upstaged—both in and out of the theater. In fact, with her mom off in Texas and her dad remarried and on to baby #2 with his new wife, Megan worries that, just like her exes, her family is moving on without her.
Then she meets Owen Okita, an aspiring playwright inspired by Rosaline from Shakespeare's R+J. A character who, like Megan, knows a thing or two about short-lived relationships. Megan agrees to help Owen with his play in exchange for help catching the eye of a sexy stagehand/potential new boyfriend. Yet Megan finds herself growing closer to Owen, and wonders if he could be the Romeo she never expected.
In their fresh and funny debut, Emily Wibberly and Austin Siegemund-Broka break down the high school drama to find there's always room for familial love, romantic love, and—most importantly—self-love.
Backlist Wednesday! A weekly post highlighting the books on my shelf I need to read! Tell me what backlist books you have waiting on your shelves.
Summary from Goodreads:
Every time Gwen closed her eyes, she saw him in her nightmares. Now her eyes are open, and he's not going away.
Gwen Proctor won the battle to save her kids from her ex-husband, serial killer Melvin Royal, and his league of psychotic accomplices. But the war isn't over. Not since Melvin broke out of prison. Not since she received a chilling text…
You're not safe anywhere now.
Her refuge at Stillhouse Lake has become a trap. Gwen leaves her children in the protective custody of a fortified, well-armed neighbor. Now, with the help of Sam Cade, brother of one of Melvin's victims, Gwen is going hunting. She's learned how from one of the sickest killers alive.
But what she's up against is beyond anything she feared—a sophisticated and savage mind game calculated to destroy her. As trust beyond her small circle of friends begins to vanish, Gwen has only fury and vengeance to believe in as she closes in on her prey. And sure as the night, one of them will die.