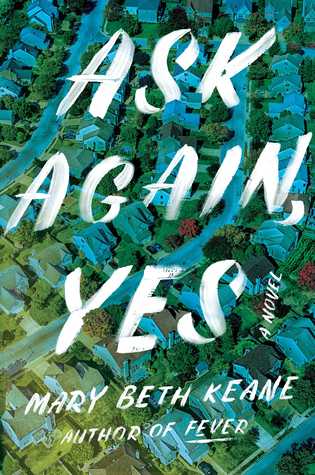 Summary from Goodreads:
A profoundly moving novel about two neighboring families in a suburban town, the friendship between their children, a tragedy that reverberates over four decades, and the power of forgiveness.
Francis Gleeson and Brian Stanhope are two NYPD rookies assigned to the same Bronx precinct in 1973. They aren't close friends on the job, but end up living next door to each other outside the city. What goes on behind closed doors in both houses—the loneliness of Francis's wife, Lena, and the instability of Brian's wife, Anne, sets the stage for the stunning events to come.
Ask Again, Yes by award-winning author Mary Beth Keane, is a beautifully moving exploration of the friendship and love that blossoms between Francis's youngest daughter, Kate, and Brian's son, Peter, who are born six months apart. In the spring of Kate and Peter's eighth grade year a violent event divides the neighbors, the Stanhopes are forced to move away, and the children are forbidden to have any further contact.
But Kate and Peter find a way back to each other, and their relationship is tested by the echoes from their past. Ask Again, Yes reveals how the events of childhood look different when reexamined from the distance of adulthood—villains lose their menace, and those who appeared innocent seem less so. Kate and Peter's love story is marked by tenderness, generosity, and grace.
Review:
What I Liked:
Cover. It was the cover that promoted me to both request this on NetGalley and read it. I'm glad that I put aside the fact that I tend to avoid historical fiction (and from the plot summary it seemed to be one) and decided to read it.
Writing Style. I loved Mary Beth Keane's writing style automatically. I managed to get sucked into the story and lives of the characters because of that. I will for sure be picking up more from her in the future!
Characters. The novel follows different points of view and I was surprised at how I liked each of them. They all had unique voices and never found myself disinterested in any of them. It is hard to pick a favorite character because each of them was flawed and interesting.
Plot. It was a slow burn story that mainly focused on the characters. I doubt this novel will be for everyone, especially those who want a fast-paced plot. It is for the reader who enjoys a slow burn and a long look at a family and characters.
What I Disliked:
Format. The one aspect I struggled with was the formatting. I think it would have been great if the novel had chapter headers with times and years on them. It was hard to tell how much time had passed with every chapter and it made reading a bit confusing at times.
Rating:
4.5 Stars Out of 5 Stars.