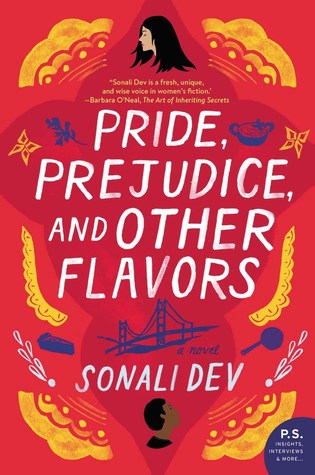 Summary from Goodreads:
It is a truth universally acknowledged that only in an overachieving Indian American family can a genius daughter be considered a black sheep.
Dr. Trisha Raje is San Francisco's most acclaimed neurosurgeon. But that's not enough for the Rajes, her influential immigrant family who's achieved power by making its own non-negotiable rules:
· Never trust an outsider
· Never do anything to jeopardize your brother's political aspirations
· And never, ever, defy your family
Trisha is guilty of breaking all three rules. But now she has a chance to redeem herself. So long as she doesn't repeat old mistakes.
Up-and-coming chef DJ Caine has known people like Trisha before, people who judge him by his rough beginnings and place pedigree above character. He needs the lucrative job the Rajes offer, but he values his pride too much to indulge Trisha's arrogance. And then he discovers that she's the only surgeon who can save his sister's life.
As the two clash, their assumptions crumble like the spun sugar on one of DJ's stunning desserts. But before a future can be savored there's a past to be reckoned with…
A family trying to build home in a new land.
A man who has never felt at home anywhere.
And a choice to be made between the two.
Review:
What I Liked:
Writing Style. The best thing about this novel was the writing. I found Sonali Dev's writing easy to read and connect with. I mainly read this novel because of the stunning cover but managed to find a new author in the process.
Plot. Sonali Dev threw a lot of story lines at us and I felt that did them all very well. I did feel that the novel was longer than it needed to be but overall the plot was well written.
Retelling Aspects. My favorite part of the book was how well-done the retelling aspect was! I love retellings as you can see from blog name and this was a great one. I loved how the author used the source material and made it her own.
Characters. I found Dev's character writing and development well-done. I was emotionally connected to many of the characters by the end. I have a feeling that we will be seeing these characters in the future and I cannot wait!
What I Disliked:
Romance. The biggest thing I struggled with was DJ and Trisha. I wanted to love them as much as Elizabeth and Darcy but did not feel a connection between the two leads. I think the biggest issues was how mean they were with one another made it hard to see them as a couple at the end.
Length/Pacing. The novel was almost 500 pages long and I felt that it could have been shorter. I struggled, mainly in the middle, with the pacing.
Unrealistic. I found some of the situations that happened throughout the novel unbelievable and it took me out of the story.
Rating:
3.5 Stars Out of 5 Stars.