Can't-Wait Wednesday is a weekly meme hosted at Wishful Endings, to spotlight and discuss the books we're excited about that we have yet to read. It's based on Waiting on Wednesday, hosted by the fabulous Jill at Breaking the Spine.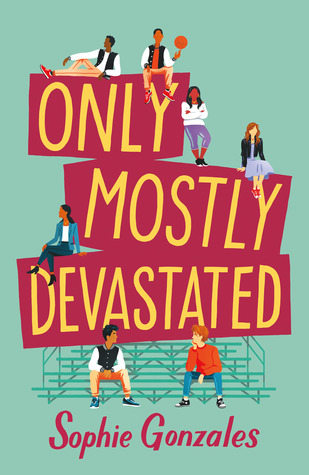 Summary from Goodreads:
Simon vs. the Homo Sapiens Agenda meets Clueless, inspired by Grease.
When Ollie meets his dream guy, Will, over summer break, he thinks he's found his Happily Ever After. But once summer's ended, Will stops texting him back, and Ollie finds himself one prince short of a fairytale ending. To complicate the fairytale further, a family emergency sees Ollie uprooted and enrolled at a new school across the country—Will's school—where Ollie finds that the sweet, affectionate and comfortably queer guy he knew from summer isn't the same one attending Collinswood High. This Will is a class clown, closeted—and, to be honest, a bit of a jerk.
Ollie has no intention of pining after a guy who clearly isn't ready for a relationship. But as Will starts 'coincidentally' popping up in every area of Ollie's life, from music class to the lunch table, Ollie finds his resolve weakening.
The last time he gave Will his heart, Will handed it back to him trampled and battered. Ollie would have to be an idiot to trust him with it again.
Right?
Right.
Backlist Wednesday! A weekly post highlighting the books on my shelf I need to read! Tell me what backlist books you have waiting on your shelves.
Summary from Goodreads:
Cassandra Bowden is no stranger to hungover mornings. She's a binge drinker, her job with the airline making it easy to find adventure, and the occasional blackouts seem to be inevitable. She lives with them, and the accompanying self-loathing. When she awakes in a Dubai hotel room, she tries to piece the previous night back together, already counting the minutes until she has to catch her crew shuttle to the airport. She quietly slides out of bed, careful not to aggravate her already pounding head, and looks at the man she spent the night with. She sees his dark hair. His utter stillness. And blood, a slick, still wet pool on the crisp white sheets. Afraid to call the police—she's a single woman alone in a hotel room far from home—Cassie begins to lie. She lies as she joins the other flight attendants and pilots in the van. She lies on the way to Paris as she works the first class cabin. She lies to the FBI agents in New York who meet her at the gate. Soon it's too late to come clean—or face the truth about what really happened back in Dubai. Could she have killed him? If not, who did?